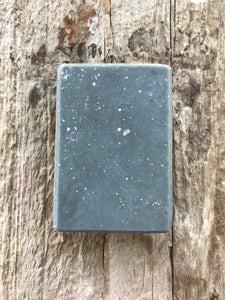 Your skin is the largest organ in your body, why not use a facial cleanser free of chemicals on it?? This was our vision when creating our all natural facial soap line. Our Charcoal & Tea Tree facial bar is packed with skin loving ingredients!! Based on customer reviews, works best on oily complexion.
Ingredients: Farm Fresh Goats Milk, Olive Oil, Coconut Oil, Sustainable Palm Oil, Sodium Hydroxide, Oatmeal, Tea Tree Essential Oil, Local Honey and Charcoal
Keep Bar dry between uses for maximum longevity!
PHALATE FREE & PARABEN FREE 
Full size bar weighs 3.5 oz/ travel Bar .85 oz