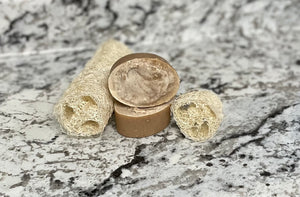 Our exfoliating loofah soap is a must for all showers and tubs!!! We even grow the loofah right here on the farm!!! Once dried, we peel it and cut it into 1 1/2 inch sections. Then we pour our favorite soap, Cream of the Crop (it has oatmeal & local honey in it) over the loofah into a mold that is the PERFECT size to fit right in your hand for scrubbing!!
What are some of the benefits of a Natural Loofah???
✅ Naturally exfoliates
✅Promotes blood circulation
✅Helps create a luxurious lather when paired with our soap☺️
Give those feet something to smile about with our Exfoliating Foot Bars!!!
Ingredients: Olive Oil, Farm Fresh Goats Milk, Coconut Oil, Sustainable Palm Oil, Oatmeal, Fragrance and Local Honey
All of our soap is handmade in small batches right here in Louisiana, slight color variation between bars may occur.
PHALATE FREE, PARABEN FREE
Keep bar dry between uses to maximize usage!