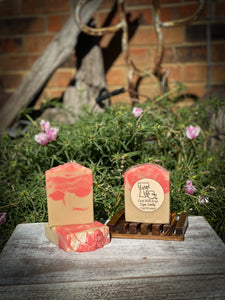 Sitting on a front porch swing, the beautiful aroma of a gardenia bush is carried to you by the wind.  The scent of the gardenia compliments the rose bush that sits on the corner of the house.  The scents combine letting you know, at last, you're back to your roots in Cajun Country. 
Ingredients: Olive Oil, Coconut Oil, Sustainable Palm Oil, Goats Milk, Sodium Hydroxide, Castor Oil, Fragrance and skin safe colorants
Keep bar dry between uses for maximum longevity!
PHALATE FREE, PARABEN FREE
Full size bar weighs 5 oz