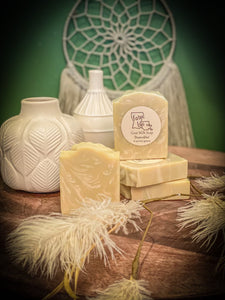 Introducing the newest addition to Farm Life Goat Milk Soap's line, Dreamcatcher! 
Crafted using farm-fresh goat milk and the highest quality ingredients, Dreamcatcher provides a rich and bubbly lather that deeply cleanses.  Goat milk is a natural source of alpha-hydroxy acids and vitamins, which work together to gently exfoliate, while the moisturizing properties of goat milk keep skin hydrated and supple.
The scent of Dreamcatcher is carefully crafted with hints of crisp cucumber and juicy melon, creating a bright and refreshing aroma that is perfect for any time of day. The calming scent of this soap is reminiscent of lazy summer afternoons and will leave you feeling relaxed and rejuvenated.
So why not indulge yourself in the luxurious and refreshing scent of Dreamcatcher? Try it today and experience the magic of Farm Life Goat Milk Soap's newest creation!! 


Ingredients: Farm Fresh Goat Milk, Olive Oil, Coconut Oil, Sustainable Palm Oil, Sodium Hydroxide, Fragrance, Castor Oil and Skin Safe Colorants
All of our soap is handmade in small batches right here in Louisiana, slight color variation of bars may occur.
PHALATE FREE, PARABEN FREE
Keep bars dry between uses for maximum usage!!
Full size bar weighs 5 oz/ Travel bar 1.25 oz