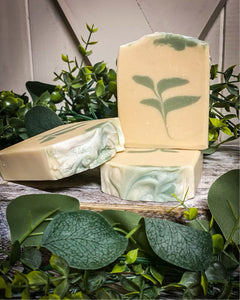 The enchanting, calming scent of eucalyptus dancing through your senses leaves you at peace. Everything is in perfect harmony.  Take a deep breath and enjoy every minute of it!! 
Ingredients: Goats milk, Olive Oil, Sustainable Palm Oil, Coconut Oil, Sodium Hydroxide, Eucalyptus Essential Oil and Skin Safe Colorants.
All of our soap is handmade in small batches right here in Louisiana, slight variation between bars may occur.
PHALATE FREE, PARABEN FREE
Keep soap dry between uses for maximum longevity. 
Full size bar weighs 5 oz/ Medium 4 oz/ Travel bar 1.25 oz