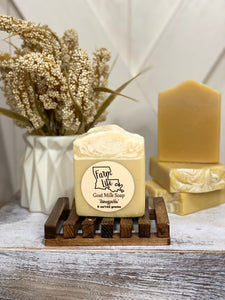 Walking down the trail, the small yellow flowers dot every vine in sight.  Their delicate flowers produce a soft but powerful scent that is truly delightful. 
Ingredients: Olive Oil, Coconut Oil, Sustainable Palm Oil, Goats Milk, Sodium Hydroxide, Castor Oil, Fragrance and skin safe colorants. 
Keep bar dry between uses for maximum longevity!!
PHALATE  FREE, PARABEN FREE
Full size bar weighs 5 oz/ Travel bar 1.25 oz