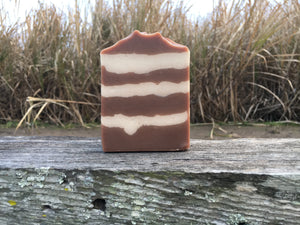 Sitting by a cozy fire with the hint of warm vanilla filling the air. Soothing to the mind and body just watching the fire crackle. This bar is perfect for these cold, winter nights. 


Ingredients: Olive Oil, Coconut Oil, Sustainable Palm Oil, Goats Milk, Sodium Hydroxide, Castor Oil, Fragrance and skin safe colorants
Keep bar dry between uses for maximum longevity!
PHALATE FREE, PARABEN FREE
Full size bar weighs 5 oz