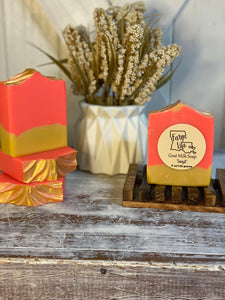 A glass of wine in hand, surrounded by your closest friends.  Laughter fills the entire room.  The soft scent of pear combined with rasberries and passion fruit makes this girls night one to remember!
Ingredients: Olive Oil, Farm Fresh Goat Milk, Sustainable Palm Oil, Coconut Oil, Fragrance, Castor Oil and Skin Safe Colorants
All of our soap is handmade in small batches right here in Louisiana, slight color variation between bars may occur.
PHALATE FREE & PARABEN FREE 
Keep bar dry between uses for maximum usage!
Full size bar weighs 5 oz/ Travel bar 1.25 oz