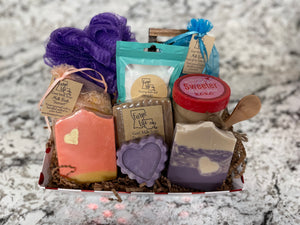 Want to see her face light up? Give her this amazing basket!!! She will have all she needs to enjoy luxurious baths and showers for months to come. 


Set Includes:
3 full size 5 oz Body Bars
2 Milk Baths
1 Heart Shaped Soap
1 Bath Sponge
1 Fizzing Bath Salt
1 Wooden Soap Dish
1 5 oz Sugar Scrub
You can choose any bars you'd like by making a note at checkout.  If no notes are made, we will put our most popular bars in there for you! 
**Local customers enter coupon code LOCAL for free pickup**